Posts for category: Uncategorized
By Marcus A. Wilson, DMD
April 28, 2020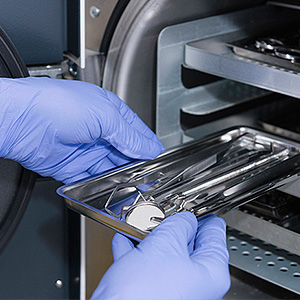 During this year's National Public Health Week in April, health issues like vaping and the opioid crisis are taking a back seat to what is front and center on everyone's mind: the novel coronavirus (COVID-19). This highly contagious viral infection is upending business as usual for most of the world in a way unlike anything we've experienced. Nothing is "normal" right now, including dental care.
As with other aspects of daily life, you can expect disruptions in dental care because of COVID-19, especially involving routine visits. But with that said, we're working hard to ensure your teeth and gums aren't overlooked during this global crisis. We are here for you, so please call us for any questions you may have, and especially if you are experiencing dental pain.
If you do need to visit the dentist for treatment, you might be concerned about potentially exposing yourself or others to COVID-19. Like every business that interacts with the public and especially all healthcare providers, dental offices are implementing extra precautions during this time to protect both patients and staff against infection.
This isn't something new: The dental profession as a whole has strict protocols for preventing infection that have been in place for several years. Infection control is a top priority for dentists at all times, not just during outbreaks like COVID-19. Here are some of the things we do—and are expanding because of the novel coronavirus—to keep you safe during dental appointments.
Barrier protection. Dental providers routinely use disposable items like gloves, face masks or eyewear to prevent disease spread during procedures that involve close contact with patients. For extra precautions with COVID-19, we're adding more of this type of barrier protection.
Sterilization and waste disposal. Instruments and equipment that we use repeatedly are thoroughly sterilized to remove all microorganisms, including coronavirus, from their surfaces. For disposable items used during treatment, we keep these separate from common waste and dispose of them according to strict protocols for handling bio-medical waste.
Disinfection. Even though the main pathway for spreading COVID-19 is through respiratory droplets in the air, we're continually disinfecting office and treatment surfaces that the virus might potentially contaminate. In doing so, we're using substances recommended by the U.S. Centers for Disease Control (CDC). By the way, you can find a list of such products at //www.americanchemistry.com/Novel-Coronavirus-Fighting-Products-List.pdf.
These are uncertain times for all of us. But while we're cooperating with social distancing and other measures to slow the spread of COVID-19, we're still here partnering with you to keep your family's teeth and gums healthy.
If you would like more information about special dental precautions during this time, don't hesitate to contact us. To learn more, read the Dear Doctor magazine article "Infection Control in the Dental Office."
By Marcus A. Wilson, DMD
May 24, 2019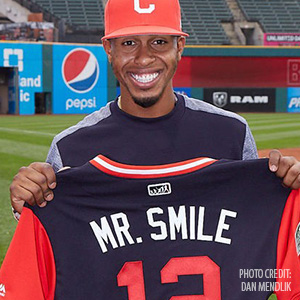 At the first-ever Players Weekend in August 2017, Major League Baseball players wore jerseys with their nicknames on the back. One player — Cleveland Indians shortstop, Francisco Lindor — picked the perfect moniker to express his cheerful, fun-loving nature: "Mr. Smile." And Lindor gave fans plenty to smile about when he belted a 2-run homer into the stands while wearing his new jersey!
Lindor has explained that he believes smiling is an important part of connecting with fans and teammates alike: "I've never been a fan of the guy that makes a great play and then acts like he's done it 10,000 times — smile, man! We've got to enjoy the game."
We think Lindor is right: Smiling is a great way to generate good will. And it feels great too… as long as you have a smile that's healthy, and that looks as good as you want it to. But what if you don't? Here are some things we can do at the dental office to help you enjoy smiling again:
Routine Professional Cleanings & Exams. This is a great place to start on the road toward a healthy, beautiful smile. Even if you are conscientious about brushing and flossing at home, you won't be able to remove all of the disease-causing dental plaque that can hide beneath the gum line, especially if it has hardened into tartar, but we can do it easily in the office. Then, after a thorough dental exam, we can identify any problems that may be affecting your ability to smile freely, such as tooth decay, gum disease, or cosmetic dental issues.
Cosmetic Dental Treatments. If your oral health is good but your smile is not as bright as you'd like it to be, we can discuss a number of cosmetic dental treatments that can help. These range from conservative procedures such as professional teeth whitening and bonding to more dramatic procedures like porcelain veneers or crowns.
Tooth Replacement. Many people hide their smiles because they are embarrassed by a gap from a missing tooth. That's a shame, because there are several excellent tooth-replacement options in a variety of price ranges. These include partial and full dentures, bridgework, and dental implants. So don't let a missing tooth stop you from being Mr. (or Ms.) Smile!
If you'd like more information about oral health or cosmetic dentistry, please contact us or schedule an appointment for a consultation. You can also learn more by reading the Dear Doctor magazine articles "Beautiful Smiles by Design" and "The Impact of a Smile Makeover."
By Marcus A. Wilson, DMD
March 15, 2019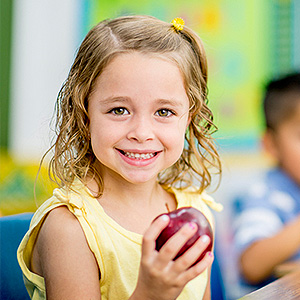 Besides daily hygiene and regular dental visits, the best thing you can do for your kids' dental health is to see that they're eating a nutritious diet. And not just at mealtime—healthy snacking also promotes healthy teeth and gums.
Healthy snack foods are quite similar to their counterparts at mealtime: fresh fruits and vegetables, whole grains and low-fat dairy. At the same time, you should avoid providing processed snacks high in sugar, salt, unhealthy fats and calories.
Managing snack choices at home is usually a simple matter of discipline and follow-through. When they're at school, however, it's a bit trickier as they may encounter snacks sold on school grounds or offered by fellow students that don't meet your definition of a healthy food. Public schools follow nutrition guidelines from the U.S. Department of Agriculture (USDA) on snacks sold on school grounds, but many dentists don't believe the standard goes far enough to protect dental health.
So, what can you do to combat these less healthy snack choices your kids may encounter at school? For one thing, you can work with your child's school officials to exceed the USDA guidelines or turn off snack vending machines right before lunch to lessen kids' temptation to skip lunch.
You can also interact with your children to better manage their schooltime snacking. But rather than issue blanket commands about what they should snack on at school, help them instead understand the difference between nutritional foods and less nutritional ones, and why it's important to choose healthy snacks for their life and health.
Finally, don't send them to school empty-handed—pack along nutritious snacks so that they won't seek out vending machines or their classmates to satisfy the munchies. You can supercharge your efforts with a little creativity (like a dash of cinnamon in a bag of unbuttered popcorn) that make your snacks fun and more enticing than other school ground options.
It's not always easy to keep your kids from unhealthy snack choices. But with a little commitment, interaction and ingenuity, you can help steer them toward snacks that are tooth-friendly.
If you would like more information on boosting your child's dental health, please contact us or schedule an appointment for a consultation. You can also learn more about this topic by reading the Dear Doctor magazine article "Snacking at School: How to Protect Your Child's Teeth and Promote Good Nutrition."